The i-SIGMA Board Approves Remote Secure Collection Receptacle Endorsement
April 21, 2021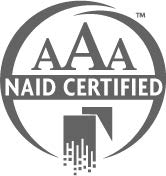 After months of deliberations, including both an orientation webinar, a 30-day open comment period, and final modifications by the Certification Rules Committee, the i-SIGMA Board of Directors has issued final approval of the new Remote Secure Collection Receptacle (RSCR) Endorsement for NAID AAA Certification. As a result, NAID AAA Certified secure destruction service providers will soon be able to deploy the next generation, highly-networked, technology-enabled collection receptacles meeting the specifications.
According to i-SIGMA CEO Bob Johnson, there is a good reason so much thought and preparation preceded the final approval.
"Conventional collection containers have been deployed in high-traffic public settings for decades," said Johnson, "and, NAID had been quite vocal that this practice lacked the necessary controls for it to be certified. Coming to understand high security containers and establishing the security and chain of custody needed for a truly compliant option required a lot of thought and robust specifications. I applaud both the intense scrutiny that went into this process and the outcome, which potentially offers an opportunity to better serve a changing marketplace."
There was one significant change that is directly attributable to member comments. Originally, it was proposed that the RSCR could be deployed in an unsecured public place, as long as the requisite alarms, lighting, and cameras were deployed. Based on concerns by commenters, the final specification limits placement of the RSCR to areas that are secured, alarmed, and inaccessible when the host location is unattended.
Over the coming weeks, the i-SIGMA Certification Specifications Manual and NAID AAA Certification forms will be modified. Members will be immediately informed when they are available. i-SIGMA will host another free webinar on the RSCR Endorsement soon after the forms have been updated.