2020 ANZ Events have not yet been announced. Please check back for details in the future or Subscribe Today to receive announcements specific to ANZ Regional Events & Topics.
2019 ANZ Conference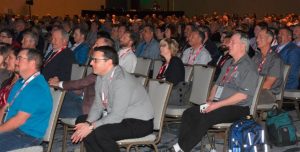 Thank you everyone for attending! This year's Annual NAID & PRISM International ANZ Conference was specifically designed to help secure information destruction and records management service providers identify and pursue profitable new business emerging from changing regulations and client needs. This one-day event, was held at Rydges Sydney Central Hotel in Sydney, Australia on 18 July, and focused on specific, real-world tools and data-driven strategies for differentiating themselves and providing meaningful value to customers besieged by new requirements and increased regulatory scrutiny.
View Photos from the Event! 
Visit the Facebook Photo Albums Now for NAID and PRISM International.
Interested in Sponsoring an Event?
Contact the the Programs & Events Department to learn more.