September Member Sentiment Survey: Steady as She Goes
September 24, 2020
The Percentage of Customers Refusing Services
The number of service providers reporting 10% or Less of their current customers are still refusing service has increased to 53%, continuing the steady growth. In other words, for the first time, more than half of respondents say they are doing business with 90% or more of their pre-shutdown customers. At the same time, those reporting more than 40% of their customers are still refusing service continues to decrease. Presently, only 10.5% of respondents report that 41% or more of their pre-Covid customers are refusing service one way or another. This is down from 11.2% of customers refusing in August and down dramatically from 36% of customer refusing service back in April.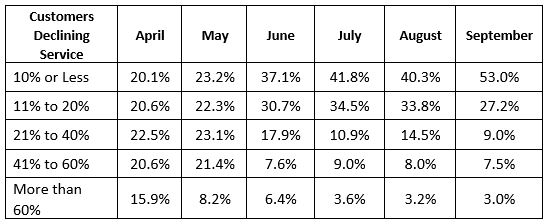 Revenue
On a less positive note, service providers reporting more modest revenue decrease of 20% or Less declined from 67.7% in August to 60.5% in September, while those showing more significant revenue decreases went up from 33.1% last month to 37.8% this month. It is worth noting, however, that the percentage of customer with moderate revenue reductions is still significantly higher than those showing steeper declines. And, perhaps more positive yet, that those reporting devastating revenue reductions of 60% or more have fallen from 19.1% in April to 1.5% in September.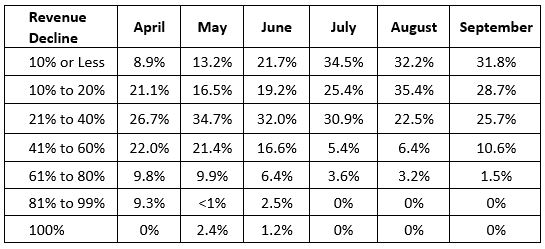 The Outlook
Service provider sentiment on the course of the shutdown tells the story. For the first three months, there was a clear, maybe a little hopeful feeling it would improve quickly. By July the percentage of those thinking that dropped from 80.7% to 45%. Since then, however, the optimists have hovered in the 43%  to 48%, although the trend is certain positive. Looking at the other end of the spectrum; the percentage of respondents thinking things will worsen, we see a corresponding trend, with June representing the lowest percent of pessimism. Since then, the least attractive outlook has also lowered, showing some feeling of optimism that at corner may be turned in the near future.

Will I Survive?
By June, the percentage of service providers confident or very confident of survival peaked at 98.6%. Since then, that number tempered only slightly, waffling somewhere in the 90% to 97% range. If only comparing the previous month with the most recent, last month was the most troubling since we began the surveys with nearly 10% reporting they were unsure of their survival. Fortunately, the number of respondents nervous about the future prospects improved in September, but it is still troubling that nearly 1 in 20 feel threatened.