MEMBERnews: ALL Source Security Container MFG announces a new addition to the leading sales team in North America!
April 26, 2019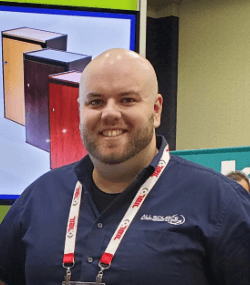 ALL Source Security Container MFG, a NAID and PRISM International Associate Member offering distribution of secure collection carts, containers, and consoles, is pleased to announce the hiring of Cameron Vincent as Business Development Consultant.  Cameron will be the main point of contact for all the Central, and Western USA & Canada document destruction companies, along with record storage, e-waste, and medical waste organizations.
Cameron has more than a decade of senior management and sales experience serving clients within the automotive industry, and the sports memorabilia sector.  Cameron is well educated on the current requirements and trends that secure shredding companies require in today's market, and is full of knowledge on how to provide containers solutions that will meet your client's requests.
Matt McKeown, Director of Sales & Marketing said: "Cameron is coming to ALL Source with widespread experience in customer service, operations, and account management, which will be a real asset to our business, and most importantly provide our customers with a trusted container advisor to grow their business."
To book your next consultation, place an order, or to introduce yourself to Cameron, please reach him directly at 866 526 4579 ext. 113 or by email [email protected]