Logo Misrepresentation Enforcement
January 31, 2022
As of 1 January 2022, association members are identified as i-SIGMA members, disallowing any further reference to NAID membership or PRISM International membership, and disallowing the use of those respective membership logos. The new i-SIGMA membership logo is available to members in their i-SIGMA Member Portal. As a sign of good faith and cooperation, 1 February 2022 will serve as the point from which the following compliance timeline begins.
Note: This guidance applies ONLY to NAID and PRISM International membership references and logos. The use of NAID AAA Certification and PRISM Privacy+ Certification logos, when appropriately held by the member-company, is unaffected by this change.

Timeline
One Week (References/Logos Removed & Replaced by 7 February 2022)
Websites, Social Media
Written Correspondence, e.g., Letters, Emails, Content, Articles
Email Signatures & Graphics
New Advertising Insertions
New Social Media content
Newly Purchased Containers & Container Labeling
New Collaterals, Brochures, Fliers, Labels, Stickers, Uniforms, Patches, Stationary (e.g. letterhead, invoices, work orders, business cards, electronic communications, etc.)
One Month (References/Logos Removed & Replaced by 1 March 2022)
Active/Existing Advertising
Three Months (References/Logos Removed & Replaced by 1 May 2022)
Legacy Collaterals, Brochures, Fliers, Labels, Stickers, Patches, Stationary
Six Months (References/Logos Removed & Replaced by 1 August 2022)
Building Signage
Truck Signage
Patches, Uniforms created prior to 1 February 2022
No Limit (References/Logos is either Impractical or Impossible)
Articles, Press Releases, Social Media content irrevocably placed prior to 1 February 2022
Historic advertising which placement predates 1 February 2022
Bins and Consoles purchased or placed in circulation prior to 1 February 2022
Exemptions: i-SIGMA members anticipating deviations from the timeframes above, should proactively notify the Complaint Resolution Council prior to exceeding the allowable grace period. Please direct such notification to [email protected].
Trademark Misuse Notification Protocol
In the event of continued use beyond the grace period, the member-company will be notified of the misuse with instructions to:
Immediately discontinue the misuse
Provide evidence confirming remediation within 10 business days
Where the misuse is remedied within the stated timeframe, the matter will be closed. In the event there is continued reference to NAID or PRISM International membership and it is not remedied as stated above, the matter will be forwarded to the i-SIGMA Complaint Resolution Council for further action.
NAID®, the National Association of Information Destruction®, PRISM International®, and PRISM International – Professional Records & Information Services Management International® are federally registered trademarks of the International Secure Information Governance & Management Association TM (i-SIGMA®).
Prohibited Logos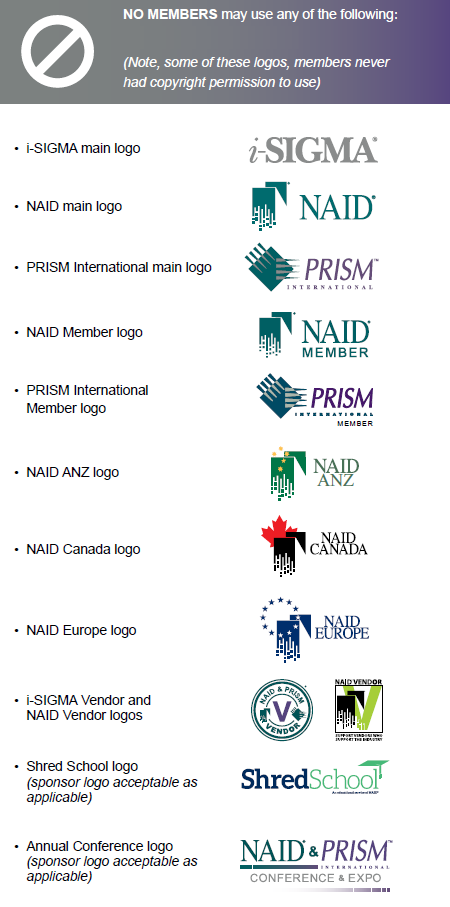 Questions: For questions about logo usage and the rebrand, please email [email protected] or phone (602) 788-6243 x2008.