Board Recently Names Tom Schreyer, CSDS as 2022 i-SIGMA Conference Chair
May 13, 2021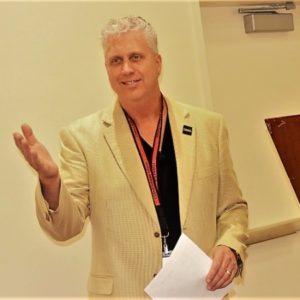 While the 2021 NAID & PRISM International Virtual Conference just wrapped last month, i-SIGMA is already working on plans for next year's conference. With this in mind, the i-SIGMA Board of Directors approved yesterday Tom Schreyer, CSDS of Affordable Shred and Storage (Buffalo, IL, USA) to Chair the 2022 Annual Conference Committee.
"He's got his eye on the ball," Kelly Martínez, Director of Marketing & Communications who oversees the associations events, told us in regards to Schreyer's appointment. Martínez has worked with Schreyer the past several years on the Communication & Marketing Committee, which Schreyer has also Chaired. She went on to add, "He'll not only bring passion and focus to the table, but he'll do his darndest to pull in feedback from the rest of the committee to make this a stellar event for everyone."
About Tom Schreyer, CSDS
Schreyer is an information privacy advisor, leading his company in both document, electronic, and product destruction and compliance. He assists business professionals in formulating their information security policies, updating management teams and training customer's employees. Schreyer is a Certified HIPAA Professional and a Certified Secure Destruction Specialist (CSDS). In addition to his work with i-SIGMA committees, he also presents his HIPAA UP! seminars at annual conventions to regional medical associations, medical groups and physicians.
The 2022 i-SIGMA Conference will take place 11-13 April in Orlando, FL, USA. Save the Date!
If you are an Active or Vendor Member interested in serving on the 2022 Annual Conference Committee, please notify the Events & Program Coordinator, Sara Berntgen.
Wishing you could have attended the 2021 Conference? It's not too late! Recordings are available. Register now for access.
Written by Kelly Martínez | 13 May 2021