2023 i-SIGMA Award Winners Announced
April 28, 2023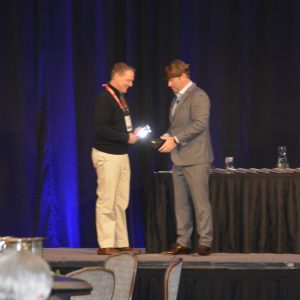 i-SIGMA announced the recipients of multiple awards, including the Service Provider Member and Corporate Member of the Year Awards and the newly named Robert Johnson Lifetime Achievement Award earlier this month at the i-SIGMA 2023 Conference in Las Vegas, NV. Don Adriaansen, MBA, CSDS of TITAN Mobile Shredding (Pipersville, PA, USA), Jordan Peace, formerly of Access, and Tom Seibert of VRC Companies, LLC-Tampa (Tampa, FL, USA) were awarded the Service Provider Member of the Year Award. Lex Katich of Shred-Tech (Cambridge, Ontario, Canada) was awarded the Corporate Member of the Year Award.
In the tradition of i-SIGMA, every year the association's Executive Committee singles out individuals with the presentation of the Service Provider Member and Corporate Member of the Year Awards.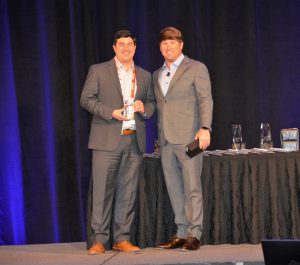 Don Adriaansen, MBA, CSDS has served as the NAID Conference Chair from 2011 – 2012,  served on the NAID/i-SIGMA Board of Directors from 2012 – 2022, served as NAID President from 2016 – 2017, and Past President for NAID and i-SIGMA Co-Past President and reelected as a Board Director for a two-year term in 2020. Adriaansen is the President & CEO of TITAN Mobile Shredding, founded in 2005. They are NAID AAA Certified, provide on-site and plant-based destruction for paper, media, and hard drives and products. 
Jordan Peace formerly served as the Senior Vice President, Corporate Development for Access Information Management, the largest privately held company in the records and information management industry with over 200 locations across North America, Central America, South America, and the Caribbean. As Senior Vice President, Corporate Development, Mr. Peace led all acquisition and partnership activities and assisted the President of the company in driving overall revenues and expanding Access's global market presence. Mr. Peace has led over 120 acquisitions to completion with the team at Access since joining in 2014. Prior to Access, Mr. Peace worked for a boutique investment banking firm in Knoxville, Tennessee, and focused his advisory work in the shredding and document storage industry. He holds an undergraduate degree in Business Administration and Entrepreneurship from the University of Tennessee, Knoxville.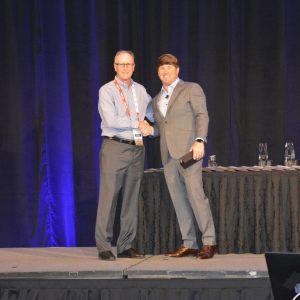 Thomas Seibert currently is employed by Vital Records Control as its General Counsel where he is responsible for managing VRC's legal department to support VRC's business operations with strategic legal guidance, all intended to ensure the integrity of its corporate governance conventions. Before joining Vital Records Control, Tom was owner and CEO of an independent record storage company that provided commercial RIM services in the west Florida market for more than 30 years. He continues to stay active in the RIM industry as member of its relevant trade associations, and has served on a number of their boards, including that of PRISM. While serving on the PRISM board Tom was a member of the board appointed merger committee which was tasked with merging PRISM and NAID to form i-SIGMA. Tom has been a director on the i-SIGMA board since its inception and continues to serve there today.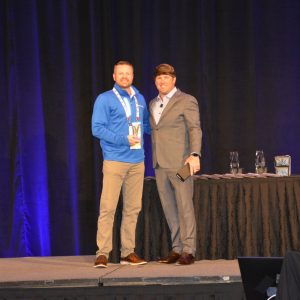 Lex Katich is the National Sales Manager for Mobile Document Shredding at Shred-Tech. Lex has been recognized as Corporate Partner Member Representative of the year for this outstanding contributions to our industry. Lex currently serves on the i-SIGMA Corporate Partner Committee, representing Shred-Tech.
i-SIGMA also acknowledged NAID founder and former Chief Executive Officer of i-SIGMA, Bob Johnson, who retired from the helm of the association this past year. Bob has been a cornerstone of this community for many years. He has tirelessly worked to promote the importance of secure data destruction and has been a champion of best practices. Bob Johnson has dedicated his career to growing the secure data destruction industry and establishing industry operational standards in compliance with regulations. He has led by example, always striving to improve the quality of our services and the level of security we provide our clients.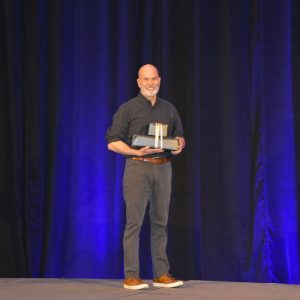 Historically, the association has on occasion bestowed the President's Award upon individuals who have achieved substantial contributions of outstanding significance in their life, and few come close to matching the achievements of Bob Johnson. With that being said, the 2023 Lifetime Achievement Award recipient was Bob Johnson!
To recognize Bob's exceptional leadership and contributions to our industry, any future recipient of the "Lifetime Achievement Award" will now be known as the "Robert Johnson Lifetime Achievement Award."It is a representation for all the hardworking professionals in the information destruction industry who have a critical role in adhering to the standards governed by i-SIGMA to protect the confidentiality and privacy of our members' clients.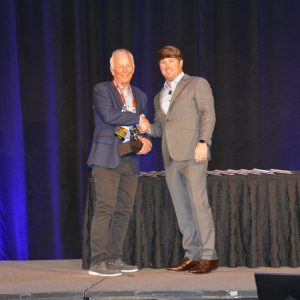 The first recipient of the Robert Johnson Lifetime Achievement Award was awarded to Patrick DeVries of DeVries Information Management (Spokane, WA, USA) for his stellar leadership and continual contributions to i-SIGMA and the industry.
i-SIGMA would like to congratulate all the award winners. We cannot wait to see what they do this year!