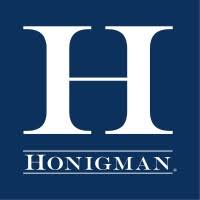 Honigman
1 March 2023
Honigman is a business law firm that operates with an eye towards responsiveness and innovation in all that we do. Founded in Detroit in 1948, we've expanded to include offices across Michigan, to Chicago and Washington, D.C.
Our sophisticated attorneys counsel clients on complex issues in more than 60 legal practice areas. We're proud to have recruited the best and brightest legal minds from across the United States – including from the U.S. Department of Justice, Am Law 50 firms, and leading global organizations – to help further strengthen our practice group expertise.
We're proud of our promise to diversity, equity and inclusion; living that commitment every day with our clients and the community.