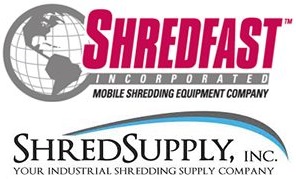 Shredfast, Inc. | ShredSupply, Inc.
12 November 2021
For over 20 years, our team at Shredfast has provided its customers with the most secure, reliable, and best performing mobile shredding and mobile collection technology in the document destruction industry. It all starts with a commitment to our customers – we make it a priority to listen to individual needs and offer personalized service. This commitment has led to innovations in curbside loading, automated paper feeding, and high throughput shredding that have revolutionized mobile shredding and mobile collection vehicles. We now own more industry-specific patents than any other mobile shredding manufacturer. All our equipment is engineered, manufactured and tested in the USA at our manufacturing facility – the largest of its kind in the world. With Shredfast, you gain increased productivity, cutting-edge technology, smaller operating costs and a knowledgeable team devoted to our customers and industry.
At ShredSupply, shredding trucks are our area of expertise. We use this extensive knowledge to provide our customers with cost-effective solutions for the mobile document destruction industry. Our team of highly skilled mechanics and technicians are dedicated to delivering high-quality equipment and exceptional customer service. This dedication has established us as the industries #1 choice for shredding truck refurbishment and used shredding truck sales. Whether you're looking for refurbishment, quality pre-owned shredding equipment, or unmatched parts and service, we have what you need to help build, grow, and maintain your mobile shredding fleet.
Find them at #isigmaconf23 at Booth #109. www.shredfast.com